I spent last week in Bermuda at a sales conference and had a chance to fish. I opted for the DIY trip instead of hiring a guide. The cost of the guide was higher than I cared to pay so based on some tips given here and by doing other research online I attempted it alone.
On Friday I caught the #7 Southshore bus up to Somerset. The stop was near a market so my wife and I grabbed some food for lunch and then made the five minute walk to the park Juro described in his report. Somerset Long bay shown here as seen from Google Earth is one of the islands larger flats.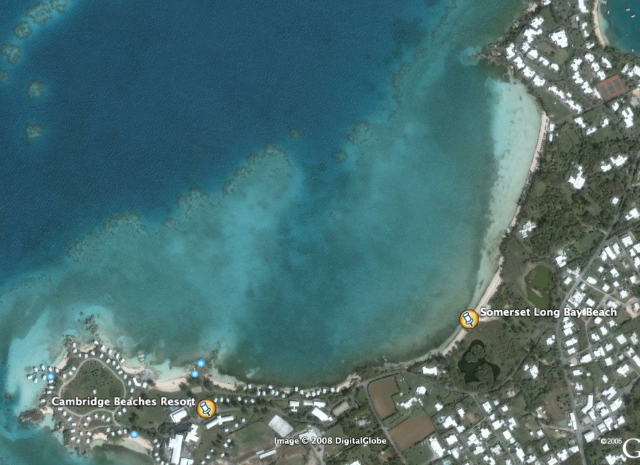 The air temperature was in the mid 70's and I suspect the water temp was in the low to mid 60's. It was sunny with light winds.
The flat was a sandy bottom with some chunks of coral and stones. There was a lot of vegetation (turtle grass?) on the bottom and some clumps of coral/rock. I did not see any bonefish and only saw two fish in total (a trigger fish and parrot fish). The tide was starting to drop making wading out farther easier but still only allowing me to fish about 100 yards from the shore. There was some forage on the bottom including small crabs and tons of snails.
I did not fish all the way to the north or south (towards Cambridge Cottages) as I was unsure of beach ownership rights which was a shame as the better looking bottom was to the north and south. I should have just gone for it and apologized later but I have a personal issue with trespassing so I lean on the conservative side and don't do it.
It seems given the limited flats that fishing from a boat in Bermuda is the way to go in order to access to whole beach (private and public) and having the option to run and gun looking for fish in different spots.
The next day I fished of some rocks near our hotel for a few hours but did not catch anything. Fishing the shore in this way seems to require a sinking line which I had but did not bother use.
It was a good learning experience and I will certainly do a few things differently next time including serious consideration of hiring the guide, learning about access rights to water off private beaches, and using a scooter instead of the bus to hit more spots for the DIY days out.
Here are some photos:
Looking North at Somerset Long Bay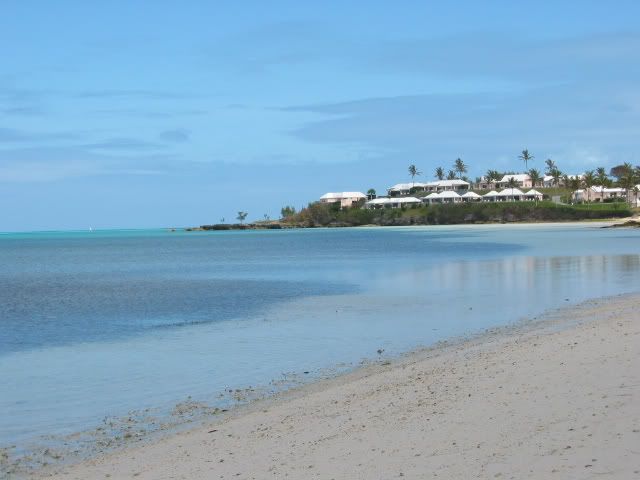 and looking south towards Daniels Head and Cambridge Cottages
Me starting out and looking for signs of life
Watch out for these guys. Not on the flat but was at our hotel beach.