Well the day of my dad's 60th birthday present came in the form of a charter trip on Cape Cod. We met Captain Art Sawayer on Friday morning at 04:00 on the southside in less than ideal conditions, but we were into fish in short order. The topwater bite was hot for a while with bass and small bluefish, and then we went to a rip where my dad proceded to get a few very nice bass.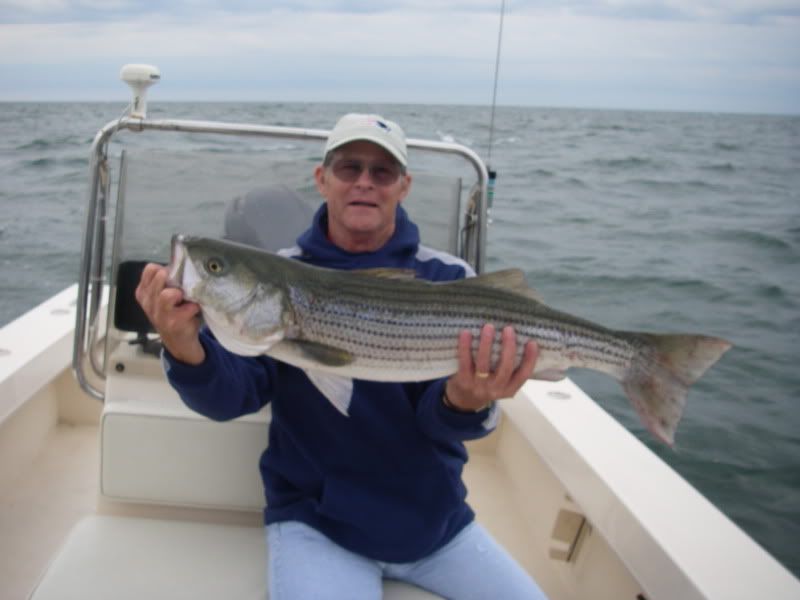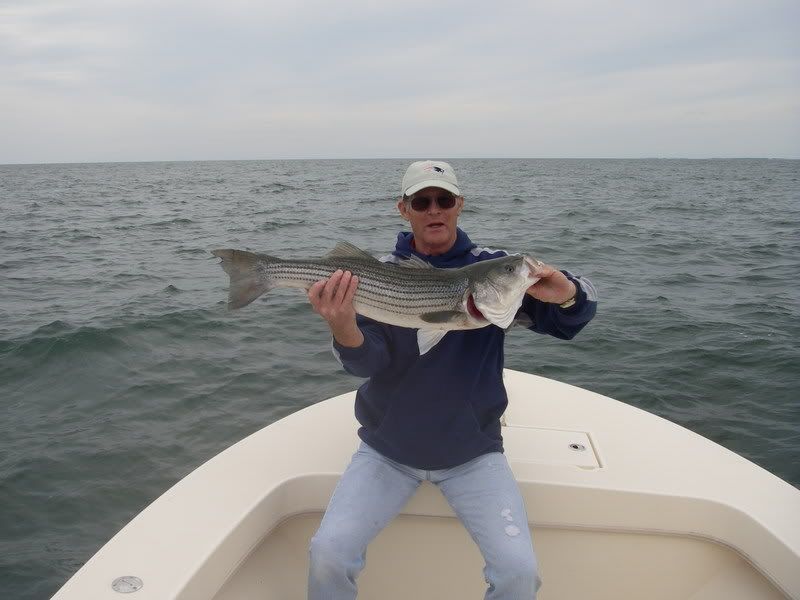 I was able to get a few fish out of the rip on squid flies, and had several biteoffs from larger bluefish. We went back to a flat where we saw some birds and fish working. Captain art pulled out a hookless teaser and started to get the bluefish all worked up so they would smash our poppers. After about thirty minutes of this insanity our ribs were fairly sore from laughing and our arms sore from fighting fish. We went back to the rip and managed a few more medium sized bass before calling it a day half past noontime.
Saturday we worked a bayside beach in the morning with decent results. My dad wasn't used to seeing stripers in the surfline in broad daylight, and several times he had waded out too far only to see fish behind him, between himself and the beach. It was an eye opening experience for him, and after a while he started to see the fish better. That afternoon and evening we did a death march in Barnstable Harbor on the outgoing tide with Sean Juan (who we were staying with) and only had a few fish to show for our efforts.
My dad needed to head back to Maine by noontime on Sunday, so the three of us hit another bayside beach on the incoming tide in the morning. The fish were there on sand eels, and at times all three of us were hooked up simultaneously. We saw some truly big fish in only a few feet of water, but the smaller fish beat them to the flies. It was good to send dad home with such a flurry of action at the end of his trip.
This left Sean and I with the afternoon to kayak Pleasant Bay. We used our two handed rods and threw big flies (8-12") looking for pig stripers, but the only action was from a pair of schoolies that somehow fit my 8/0 hook into their mouths. There were dozens of seals in the area, and any fish that we saw really looked agitated. Several times the seals were curious and started to follow us in the kayaks, even when giving them a berth of 100 yards. Nothing quite like a 600 pound animal gliding around and under you..... :
Overall, a good trip. I'm glad my dad was able to finally fish Cape Cod, and I'm certain that he will want to do it again soon.