Hi Josko,
offcourse as a native Arubian I know a bit of my way around. I went there in may 2005 and had a wonderfull time. The natives speak my language, which helped me out a lot. The best place for bonefish is the "pekelmeer", a lake next to the saltpans that provides the saltpans from saltwater. In this lake there are really a lot of nice fish. Iīd estimate the average depth about 3-5 feet, the shoreline is shallower.
As this "lake" is only in connection with the sea true a few channels it is closed to the open waters most of the time. Maybe we can call the fish here landlocked?
Thereīs one fish/charter company that claims to have rights to fish there, but officially nobody is allowed to fish on this lake. The lake belongs to the salt company called Cargill.
When I was down there I did my very favorite thing, know your language and know your prey. I knew the native name of Bonefish so I could ask the locals if they knew them and where they thought my best bet would be. My advice would be to take pictures of bones, tarpon and permit and show them to the locals. They know.....
They know very good, they hate bonefish, they donīt like to fish in places crowded with bones, they are not eatable, they rip of all of your gear and sometimes they are so abundant they make it impossible for other fish to be caught with handlines. So definetley they can tell you where they are. Maybe it is even possible for you to go fishing with a native, not commercially. Just ask them if you can go onto the lake with them and then you go of by yourself, just staying in the neighbourhood. Most of the times authorities wonīt send them away, but theyīll do with tourists.
myself I wandered along alone, as I speak papiamento confrontations with authorities usually donīt give that much of a situation, even people who just let me go on and donīt bother anymore.
But even if your not thinking about "stretching" the law, on the seaside thereīs lots and lots of good waters. Just keep in mind that the most important industry of Bonaire is diving. Iīve seen huge, and I mean HUGE, tarpon swimming around right beneath docs in marinaīs. But as they are a attraction for divers, beware not to catch those at a diving site...
barracudaīs also attraction for divers, but donīt be surprised if a 5-6 feet barracuda just rips right through the leader, leaving you with nothing. Lots of jacks, well basically Bonaire is just a marina paradise.
my personal best time ever was on a midday, just past noon. I had lunchbreak and went to the saltlake..... Spent a small two hours fishing there and managed to land 6 bones, missed one... Most of the time went up into drilling and releasing!!! All fish where 16-22 inches, my aftma8 was bent and tested like never before. The day afterwards i could even feel the drilling in my arm. Sounds almost incredible.
So if your wife still wants to go, tell her a couple of days is too short....
Do you know when youīll be there?
In november Iīll be in Aruba, donīt have the money, but I am always availabel to be flown in
I am not a trained guide, but know how the game works, especially on my territories. And considering the price people pay for guides, why not sponsor an unemployed veterinarian to be a fishing buddy
Anyways, if you want more info, or fly patterns or anything about the place, feel free to sent a message.
ever seen a tarpon feed?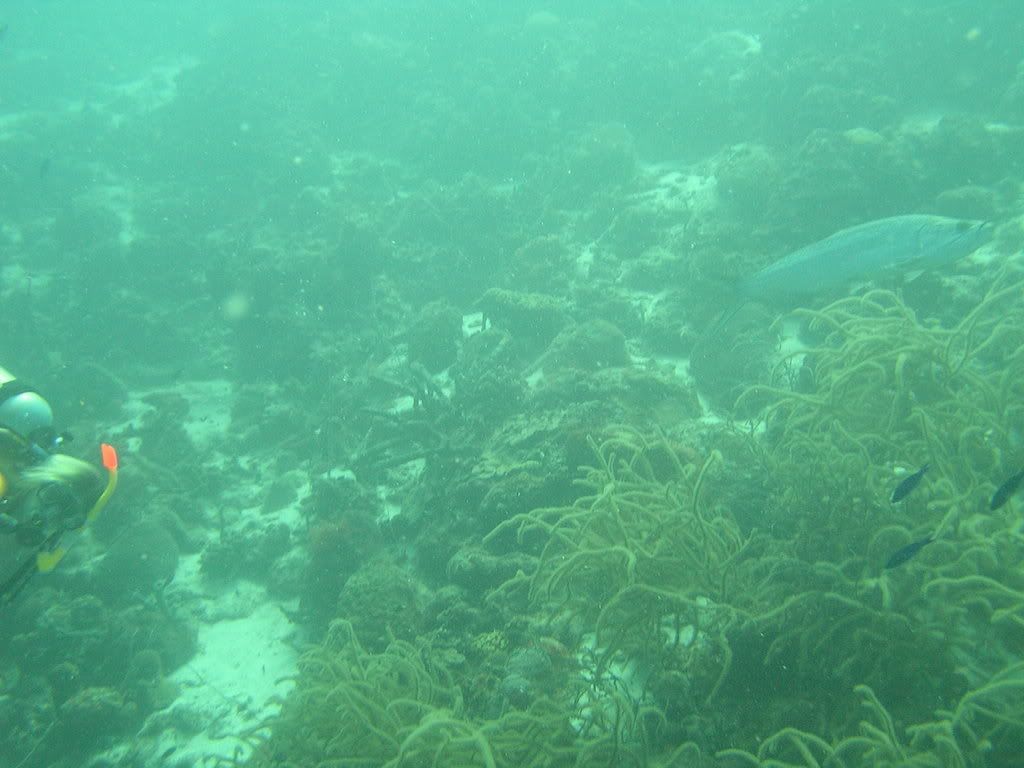 my diving buddy and the fish, think about it, the fish lies further away then my buddy, but these guys are huge!!!
or are you looking for these guys?
they also feed on the Bonairian underwatergrounds
Ciao!