Went out on Saturday & Sunday with the intent of targeting bonito. But had heard that SBFT were around so rigged with 20lb at the business end rather than the usual 12. Slow fishing for me both days…only 1 hit each day, but what a hit…
When I got the first one near the boat (was fishing solo as the guy I'd planned to go with flaked and never called me back), realized it was going to be interesting to try and boat this puppy. A friend happened to be fishing nearby and kindly offered to assist. He pulled his anchor and I managed to grab the camera jump from my boat to his without losing fish, life, limb or camera – listed in order of importance. Still some work to get this fish close enough to the surface for him to grab. Was really a great gesture on his part…thanks again Steve!
Fish was 18lbs and I've never felt anything like that on fly before. Unfortunately, it was bleeding quite heavily and releasing it was not an option. Made me quite sad because these fish grow up to become the most incredible fish that swims. To each his own, and those that know me well are certainly aware of my great penchant for sushi, but this one felt bad. Tasted great to be sure, but I was bummed nonetheless.
Sunday dawned clear and amazingly calm. Was fishing with my friend Shane. We each had several fish chase, swirl and in his case grab the fly, but no love. However, I had a fish hit and then bolt for open water. Shane reeled in and took some pictures of the action, which was too bad as we had a small pod surface well within casting range, and then another (or perhaps the same one) came up no more than 20 feet away – all the while his fly was neatly tucked on the rod. This one took a little more effort to land. A few pictures and then off it swam.
Words really don't do justice to the strength, power and stubbornness of these fish. Getting all that backing and ultimately fly line back is the easy part of the struggle. Likewise, the incredible density and heft when you lift one out of the water is boggling. Their iridescent colors as they glisten in the sun is breathtaking. By far the most amazing fish I have ever caught.
I hope to be lucky enough to catch many more, and hopefully will be able to watch them swim off…
Sunday's fish.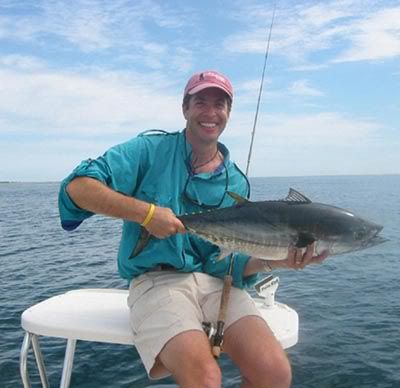 -J