This is my midge swap fly.
Hook: TMC 200RBL, #20
Thread: Olive 8/0
Body: Olive goose biot
Thorax: Peacock herl
Wrap a base coat of thread stopping partially down bend of hook. Pull a biot from the strip of feathers (don't cut it) and tie it in with the dimple on the base of the feather towards the eye of the hook. Wrap the biot forward and tie off. Tie in a piece of peacock herl, wrap 3-5 turns then tie off.
If you reverse the direction of the dimple on the biot you will get a smooth body, rather than the ribbed look.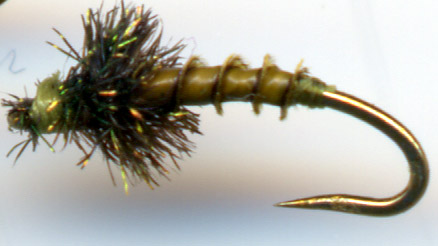 Or a whole batch of them