I enjoyed it but salar is still king. We were fishing on long island; we stayed at Chez Pierre
http://w ww.chezpierrebahamas.com/
we were guided by Locksley Cartwright. The last time I fly fished in the sea was around 40 years ago off the Isle of Skye using a team of flies for mackerel on a hand line.
View from the bedroom window.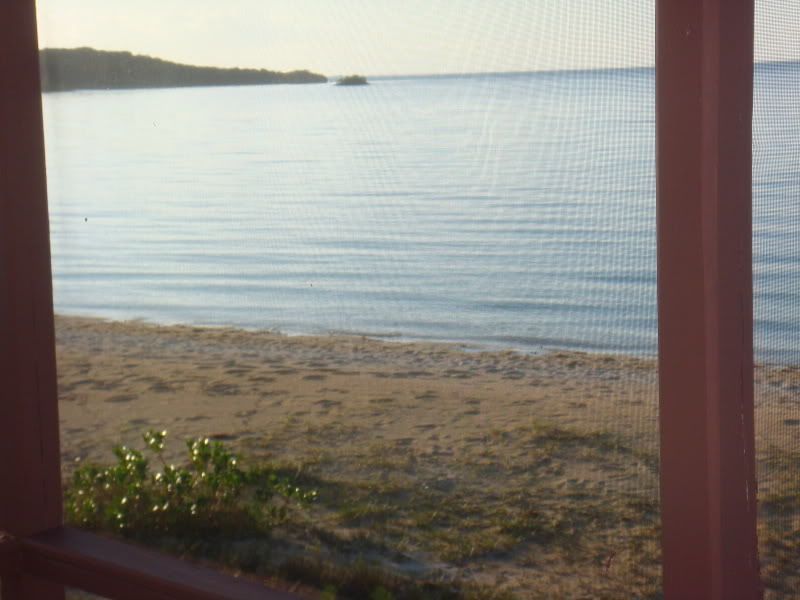 and the "bungalow itself.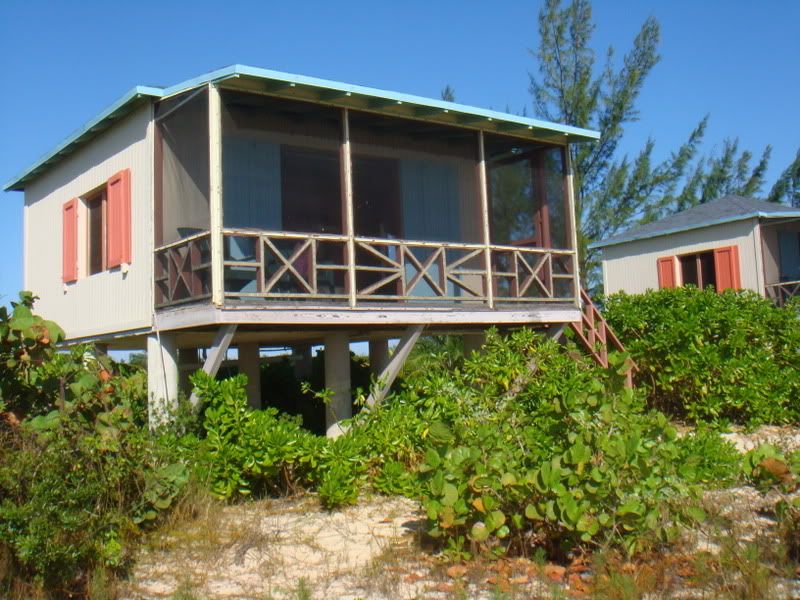 This will be by no means a how to, as my knowledge is very limited, but a couple of pieces of advice.
1.For any non USA readers. Avoid Miami airport, the Americans make you queue or 2 hours to enter their country then you walk through customs down the stairs and out through the departure gates.
2. Watch out for the mosquitoes.
They bite!
My fishing knowledge was somewhat turned on its head, I always thought spring tides were good, high tide a good taking time and a good breeze with an overcast sky the way to go; but bonefish prefer smaller tides either rising or falling, at high tide they hide in the mangroves, Bahamas version of rhododendrons. You need strong sunshine and no wind as you are sight fishing and if there is no sun, you have even more difficulty seeing the fish, and a wind ruffles the surface making it hard even for the guides.
Locksley picked us up at 8:30, being used to see gillies' cars covered by spaniels a guides car covered in moggies amused me.
We then motored down Long Island to the spot where he kept his boat, the Silver Streak, which is powered by a 70 horsepower outboard. Once we had loaded the boat we set off, there was a slight swell but soon we were skimming over the waves, with a motion somewhat like horse riding, the push-pole protruding from the bow gave the impression of a medieval knight off to the joust. It was just after high tide (spring) and the bonefish were just starting to leave the mangroves. There were two of us sharing the boat so I decided I would observe first. Locksley was soon spotting fish and calling out the angle and distances "two o clock 20 yards, a little to your right" I could see nothing, we had a couple of follows but no hook ups, then it was my turn. I climbed up on the bow, proudly wearing my Tesco flats boots (trainers to you then). Locksley soon spotted a fish and I managed to cast somewhere near, "strip strip strip he's on it" then all of a sudden there was a take the loose line lying on the deck shot up the rod till the loop I was standing on stopped it- ping, first fish lost. Lesson one don't wear flats boots on the boat. New fly and start again, I hooked another and managed to loose it when a loop of line unexplainably wrapped itself round my finger. The day progressed in a similar way, but the sea was quite choppy and poor Locksley struggled to find the bonefish for us, the prime time is April and May when the winds are much less, tends to clash with primetime on Speyside so I will have to take their word for it.
Day 2
I was first up and Locksley soon had a bonefish in his sights "40 yards, eleven o-clock, wait Malcolm, 20 yards can you see him?" "No" but under Locksley's guidance I dropped a fly close enough to get a take and after a few 100yard plus runs I landed my first bonefish. I can only describe it as hooking onto the collar of a passing motorcyclist. I landed a second one later that morning and flushed with success Locksley decided we would fish a Tarpon hole over low water. To cast for tarpon you need a twelve weight single handed rod and I must say casting it was somewhat of a acquired taste, I would have preferred a double handed rod I have never been as strong a caster with a single handed rod, but beggars can't be choosers. On my second stint the line suddenly stopped then took off, the check on the reel was set so tight that I had struggled to pull line off to cast, but the fish almost made it seem like a free spool. The advice was to strike three times, I could not even strike once, suddenly this huge fish jumped about 70yards away, and I had lost my first ever tarpon. I was told that tarpon mouths are like a toilet bowl and you really need to drive the hook home. If bonefish are like hooking a motorcyclist tarpon are like hooking an articulated lorry.
The wild life was always interesting; it is very pleasant to share a boat, half hour fishing half our sitting in the sun watching the wild life. The ospreys were interesting; they build their nests in the mangroves only about six feet off the ground unlike ours which build on the top of pine trees. We were poling past one and I admit I was paying scant attention to looking for bonefish, when Locksley spotted one, I was getting ready to cast when the osprey took off and its shadow spooked the fish, yet another way to miss catching one. We also saw house/ sand martens on their migration south. The Bahamas kingfishers are about the size of pigeons, and there appears to be a few kinds of herons and egrets. I also saw a humming bird a first for me. Whilst we were fishing the tarpon hole an eagle ray with a wing span of around six feet jumped around eight feet clear of the water, wish I could have got a photo. There are plenty of sharks both small and not so small which fortunately swim off when you are wading. Small sting rays can be a worry as their tail sting can be painful and sometimes they are half buried in the sand. The moths are large, I heard this fluttering at the window and thought a bat was trying to get in, but on closer examination it was only a moth and the garlic was not needed.
Ospreys nest.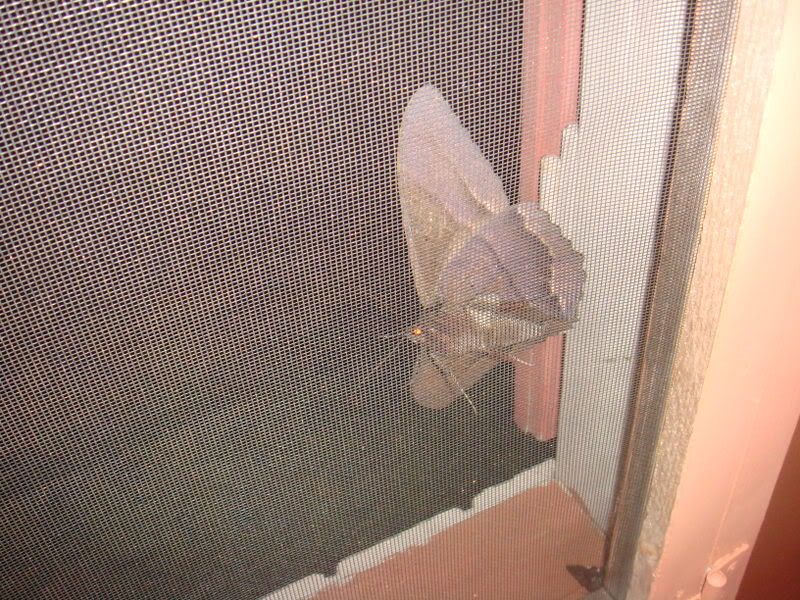 One day we discovered a small school of bonefish close to an island a few were very close to the mangroves and one I hooked took off straight into the middle, ping yet another leader broken. We had caught a couple each when the sharks turned up. I had hooked what appeared to be a decent sized fish, the first 100yard sprint had been controlled when suddenly the fish took off, I was seriously worried I would be spooled then the water had a large muddy swirl a sudden huge pull then nothing, easy lunch for a shark or perhaps barracuda.
Hurricanes can be a problem and we saw a few yachts washed up on the beeches, no one appears to salvage them, which intrigued me. I'm convinced the owner of this yacht was less than tickled pink.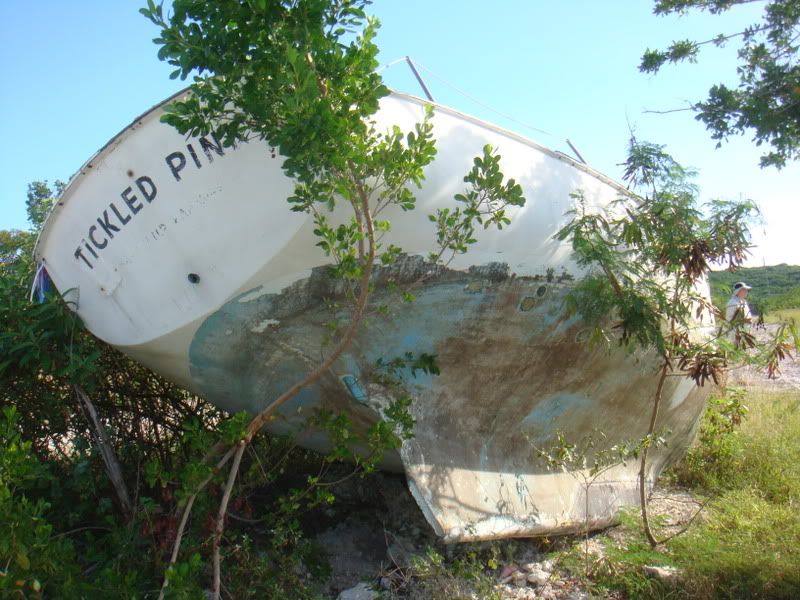 For the film buffs amongst you one of the flats we fished was the closing scene from Pirates of the Caribbean where they are chasing across the sands looking or the chest? Or was it the key?
On a historical note Long Island is one of the island that claims to be the place Christopher Columbus first landed in the Americas